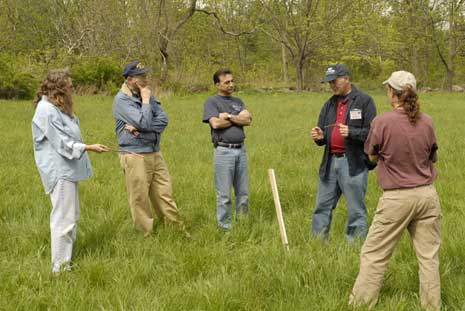 Welcome to
The Mohawk-Hudson Dowsers Website!
Our Purpose
The purpose of The Mohawk-Hudson Dowsers is to share knowledge about dowsing, to help people learn how to dowse and to help them enhance their skills in Dowsing whether it is for Water, Lost Objects, People, Ghosts, Noxious Energies, Health or searching for answers.
What is Dowsing?
Dowsing, also known as "divining", is an intuitive art and discipline used in both ancient and modern times all over the world. It is a technique for bringing information from the intuitive or subconscious senses to the attention of the rational mind, so it has potential value in every area of human endeavor, research and activity. Dowsers find it a valuable tool in both their work and their everyday lives.
Our Meetings
Meetings are open to anyone with an interest in dowsing. You do not need to be a member to attend. Meetings include activities to practice your dowsing skills and guest speakers who share their experiences & knowledge, while helping you expand your awareness and develop skills. It is an opportunity to meet and be with friendly, like minded folks, who can help you become a better dowser or who you can help. We meet once a month in various locations in the Capital region.
In the Spring, Summer and Fall we visit local sites for actual on-site dowsing. Winter meetings are usually held indoors at the Saratoga Public Library, or Cornell University Cooperative Extension Building in Ballston Spa or members' homes or elsewhere.
---
Join us at our next meeting!
Explore Dowsing and have some fun too!
---